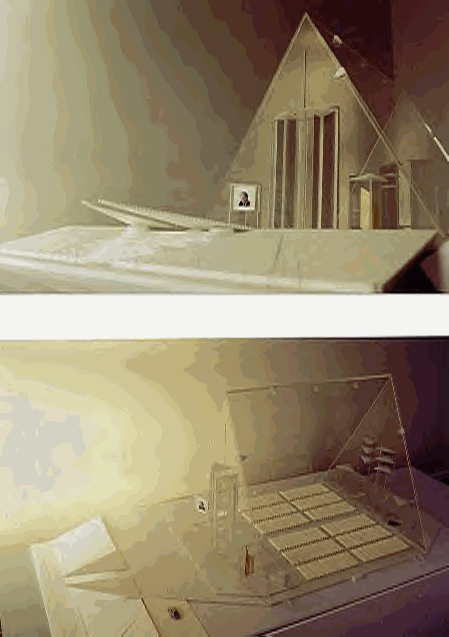 I. The Beginning: The Concept and the Competition
In 1995 Libbey Owens Ford company sponsored an international design competition challenging architects worldwide to design a project which uses the unique qualities of their gold reflective glass to give greater meaning to the design concept.
The concept of a religious, concert, and forum space consisting of equilateral triangles and prismatic volumes of golden glass and light layered in plan, section, and elevation and golden glass chapel boats sharing the same prismatic pure form won first place. The layers of gold and clear glass give depth to the wall, reflections, streaks of light, colored transparent shadows, and convey the mystery of God in the materials and the presence of God in the details.
The original site proposed in the competition was the 130 acre LTV site on the South Side of Pittsburgh. The axis of the Cathedral was oriented to the downtown and aligned with the grid of the city. After the city designated the land for other uses the site shifted to a more prominent and meaningful location on the North Shore with the other major gathering spaces of the city.

Further meaning was given by orienting the axis of the Cathedral on the fountain which would symbolically tie the water to the word and the and the Cathedral to the Point. The extension of the axis to Saint Mary of the Mount on Mt. Washington would further powerfully tie the Cathedral, the Point, and the North Shore. The visual impact of the Cathedral and the glass boats will be felt from the city, the hills, and the rivers and will generate positive feelings about the city and its people. Historically some of the greatest cathedrals of Europe are found on the water's edge and this location on the shore along with the glass boats will link the Cathedral and North shore to the city and region.

Sited where the rivers unite, the theme of freedom and unity will be realized in the Cathedral where uplifting, free, and open architecture and programs welcome persons of every religion, race, creed and color. A masterplan including the Cathedral, the glass boats, the amphitheatre, the crescent, and other reinforcing elements is also proposed in seeking a unified vision of the North Shore in its design vocabulary, urban form, and program.
The competition has been published in numerous professional architectural journals including the May 1995 issue of Architectural Record. The cathedral proposal for the North Shore appeared in a well written article in the Pittsburgh Post-Gazette in May 1998 and the positive response indicated the proposal has broad public appeal. The Cathedral was also featured on the Positively Pittsburgh segment on Fox 53 in November 2000, on WQED's On Q in February 2002, and in the Pittsburgh Business Times in March 2002.