VIII. Related Projects in Other Cities
The following projects relate to the Cathedral or masterplan in their scale, siting on the water, or program. They also reflect the level of investment of public and private entities in projects which will enhance and transform their cities.
Glass Structures and Water Related
Crystal Cathedral Garden Grove, CA $18 million(1980)
The Rock and Roll Hall of Fame Cleveland, OH $84 million(1995)
The Milwaukee Art Museum Expansion Milwaukee, WIS $90 million (under construction)
Entertainment and Sports Centers
The Metreon San Francisco, CA $200 million(2000)
Chelsea Piers- 30 acre Sports Village New York City,NY $120 million(1996)
Photographs of the related projects are shown on the pages which follow.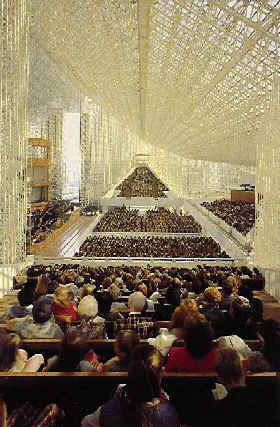 The Crystal Cathedral in Garden Grove California