III. Religious Organization and Cultural Outreach
In speaking with the Catholic Diocese and other religious groups there is a desire for an ecumenical space which serves many religions and where all are welcome. In recent world events and throughout history is the evidence of the need to bring greater understanding of our various beliefs in order to achieve peace.
The Cathedral would be organized as interdenominational and share service hours as does the Heinz Chapel. The regular 11AM service would be nondenominational and structured similar to the one at the Crystal Cathedral which features gifted artists performing, extraordinary figures in entertainment, medicine, business and other fields being interviewed, and an uplifting positive message. As a Cathedral of music the ability of such a magnificent space to draw great musical talent will also provide the impetus to bring youth to inspiring services on Sundays and concerts on weekdays. University participation as audience and performers will further unite the city and enhance the programs.
The schedule might be as follows with a 9:30 AM service hour rotating in use by each of the major religions.
Saturday Service
7:00 pm Contemporary Service or Mass or Concert
Sunday Services
9:30 am Rotating Service
11:00 am Nondenominational Service
2:00 pm Live or taped broadcast-Crystal Cathedral
7:00 pm Contemporary Service
The Catholics, Lutherans, and Episcopalians in particular and the other groups in general have expressed a desire to work together and the Cathedral would allow the opportunity to build those bonds.
Cultural Outreach Programs
With the ability of the Golden Cathedral to produce $5 million or more in annual positive cash flow comes a responsibility to the region. A number of unique programs will be initiated.
a. Restoration and Renovation of Churches in the Pittsburgh area.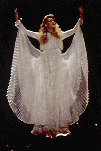 b. Education in music, dance, drama and architecture for students and adults with after school, evening, and weekend programs integrated with and supporting programs in the Cultural District. The programs will also serve as training for those inspired to take part in the Golden Cathedral Pageants where some will dance, some will act, and some will soar on wires as angels.
c. Free concerts and forums at the Golden Cathedral.